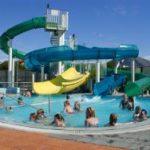 Afgreiðslutími
Opening  hours
Weekdays:  06:00 – 22:00
Weekends:  09:00 – 18:00
Gjaldskrá - Verð
Myndir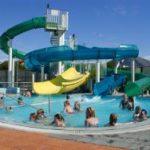 Um sundlaugina
The outdoor pool is 25 x 12,5 meters big with 3 watersliders, a childrens pool, two hot tubs, a small pool with massage and a sauna.  There is also a 12,5 x 8 m indoor pool.
There is a gym with an equipment room, aerobic room, Egoline tanning equipment.
There are also special dressing rooms for the disabled or those who want privacy.
Camp site close by